You are here
Back to top
Sherlock Holmes vs. Cthulhu: The Adventure of the Neural Psychoses (Paperback)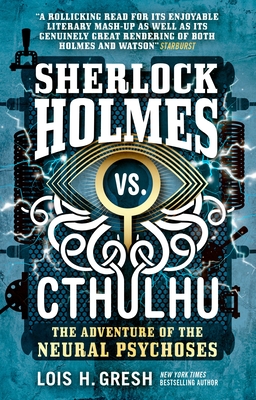 Description
---
The second novel in Lois H. Gresh's Sherlock Holmes vs. Cthulhu series.

Amelia Scarcliffe's monstrous brood, harbingers of Cthulhu, will soon spawn. Her songs spell insanity, death... and illimitable wealth. And Moriarty will do anything to get his hands on gold, even if it means tearing down the walls between this world and a realm of horrors.

Meanwhile, after Sherlock Holmes's last tangle with the Order of Dagon, horrifying monsters haunt the Thames, and madness stalks the streets of Whitechapel. Gang war between Moriarty's thugs and the powerful cult can only bring more terror--unless Holmes and Dr. Watson can prevent it. But can they find the cause of the neural psychoses before Watson himself succumbs?
About the Author
---
LOIS H. GRESH is the New York Times Bestselling Author (6 times) of 28 books and more than 65 short stories, as well as the editor of anthologies Innsmouth Nightmares and Dark Fusions. She is a well-known Lovecraftian writer whose works have appeared in Black Wings of Cthulhu, The Madness of Cthulhu, and many other anthologies. Her work has been published in 22 languages. SHERLOCK HOLMES VS. CTHULHU #1: THE ADVENTURE OF THE DEADLY DIMENSIONSis the first in her new trilogy of Holmes thrillers. Lois is a frequent Guest of Honor Author at large genre conventions and has appeared on television series such as The History Channel's Ancient Aliens and Batman Tech. Visit her at www.loisgresh.com.
Praise For…
---
"Lois is leading the charge in revitalising a rich and interesting character with new challenges." Always Trust in Books 



"If you like your detective stories with a dash of the occult, Sherlock Holmes vs. Cthulhu: The Adventure of the Neural Psychoses is for you. Holmes vs. Cthulhu, what more could you want?" Horror Channel UK

"The author yet again nailed Holmes and Watson's personalities… I cannot wait for the final book in this series." Terror Tree UK

"The characters of Holmes and Watson were perfect renderings that even Doyle would approve of… It was just the right amount of terrifying meets bizarre and worked wonderfully. A trilogy that any fans of Sherlock, Lovecraft, SFF or historical fantasy would love." Mystic Reads Book Blog