You are here
Back to top
Sherlock Holmes vs. Cthulhu: The Adventure of the Deadly Dimensions: Sherlock Holmes vs. Cthulhu (Paperback)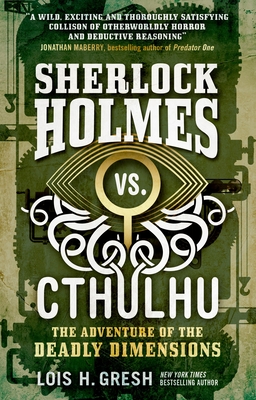 Description
---
THE SHAPE OF ANCIENT EVIL
A series of grisly murders rocks London. At each location, only a jumble of bones remains of the deceased, along with a bizarre sphere covered in strange symbols. The son of the latest victim seeks the help of Sherlock Holmes and his former partner, Dr. John Watson.
They discover the common thread tying together the murders. Bizarre geometries, based on ancient schematics, enable otherworldly creatures to enter our dimension, seeking to wreak havoc and destruction.
The persons responsible are gaining so much power that even Holmes's greatest enemy fears them—to the point that he seeks an unholy alliance.
About the Author
---
LOIS H. GRESH is the New York Times Bestselling Author (6 times) of 28 books and more than 65 short stories, as well as the editor of anthologies Innsmouth Nightmares and Dark Fusions. She is a well-known Lovecraftian writer whose works have appeared in Black Wings of Cthulhu, The Madness of Cthulhu, and many other anthologies. Her work has been published in 22 languages. SHERLOCK HOLMES VS. CTHULHU  #1: THE ADVENTURE OF THE DEADLY DIMENSIONSis the first in her new trilogy of Holmes thrillers. Lois is a frequent Guest of Honor Author at large genre conventions and has appeared on television series such as The History Channel's Ancient Aliens and Batman Tech. Visit her at www.loisgresh.com.
Praise For…
---
"THE ADVENTURE OF THE DEADLY DIMENSIONS is a wild, exciting and thoroughly satisfying collision of otherworldly horror and deductive reasoning. So much fun!"--Jonathan Maberry, New York Times bestselling author of V-WARS and PREDATOR ONE

"An irresistible eldritch mystery! Baker Street and the Great Old Ones are made for each other."--Christopher Golden, New York Times bestselling author of Snowblind and Aarat

"THE ADVENTURE OF THE DEADLY DIMENSIONS held me spellbound and kept me guessing...until 3 AM on a work day! The Great Detective has met his literary match, and 'The Woman' is author Lois Gresh. More!"--Nancy Holder, New York Times bestselling author, the WICKED Saga

"The Great Detective confronts the Unnameable in Lois Gresh's latest—grand fun!"--Leslie Klinger, World Fantasy Award winning editor of The New Annotated Sherlock Holmes and The Annotated H.P. Lovecraft

"The name Lois Gresh is as much advertising as her work needs. However, it is my privilege to recommend her latest tour-de-force. Just how the literary establishment missed engineering a dream collaboration between H.P Lovecraft and Arthur Conan Doyle before now is a mystery; but if it was waiting for Lois Gresh to do the thing justice, this one is all the justification necessary."--Loren D. Estleman, Edgar Award-Winning author

 "Lois Gresh blends Sherlock Holmes and and the eldritch flavors of H.P. Lovecraft together brilliantly. Victorian nightmares and a properly twisted mystery make THE ADVENTURE OF THE DEADLY DIMENSIONS a must read for fans of Sir Arthur Conan Doyle's legendary sleuth."--James A. Moore, author of Seven Forges and The Blasted Lands. 

"Gresh has created an unmissable collision of two of the finest Victorian treasures. No stranger to the Cthulhu mythos, Gresh's Lovecraftian writings have appeared in many anthologies, so the subject matter is in safe hands (or should that be tentacles), leaving the addition of Doyle's master detective the icing on an already appetising cake." - This is Horror

"Gresh is an excellent plotter as she weaves an engaging mystery that builds from typical Holmesian fare into pure Lovecraftian horror. Along the way, Gresh raids the toybox of both Doyle and Lovecraft and employs both of their tropes and commonly found story elements, so fans of both authors' styles will find much to love about this novel. A rollicking read…genuinely great rendering of both Holmes and Watson, in particular the latter. The good news is that this is only the first of a planned trilogy, so we can look forward to even more 'Cthulhu meets Conan Doyle' goodness in future." -- Starburst magazine

"You would think that no-one could recreate Holmes a century later than Conan Doyle did, but Gresh has managed to get both Holmes and his 'assistant' Watson pegged…In this well-written novel Gresh closely follows the Holmes conventions, whilst stepping outside of the day to day and entering the fringes of the supernatural… a fast moving and strange book." -- Breakaway Reviewers

PRAISE FOR THE WRITING OF LOIS H. GRESH:

"Riveting with mind-bending ideas – intensely creative!"—Catherine Asaro, Nebula Award winning author

"Rapid-fire action and intrigue."—Library Journal

"Intensely memorable…shocking, funny, disturbing. A uniquely gifted writer."—Charles Platt, Wired magazine 

 "pure, good trippy fun for any fan of Sherlock and the writings of HPL" Geek Dad